Tough Ribbed Mat
Tough Ribbed Mat is uniquely designed for heavy traffic, high soil areas. Fiber density is greater than similar mats. The two lever construction of numerous longitudinal "Dirt Barrier" ribs deflect and trap dirt into channels below the surface of the mat.
Features & Benefits
Two level construction traps and hides dirt.
Constructed of extra course 80 denier fiber.
100% solution dyed fiber.
Approximately 3/8" thick face.
UV stable.
Resists crushing.
Easy to clean - vacuum, sweep or hose off.
Heavy durable Safety Scrape mats work wonders in environments where traction is essential. In kitchens, locker rooms, on inclines, behind lunch counters and bars, in production areas and outside entrances. Constructed of 100% nitrile rubber for oil and chemical resistance. Moulded face cleats act as scrapers to remove heavy dirt and soil from shoes and provide an excellent anti-slip surface. Anti-skid gripper backing.
Finished Sizes

Stock Sizes
2'x3', 3'x4', 3'x5', 3'x6', 3'x10', 4'x6', 4'x8'
Full Rolls
Widths: 36", 48", 72"
Lenght: 60'
Cut Lengths
Widths 36", 48", 72"

Comfort - Tred Mat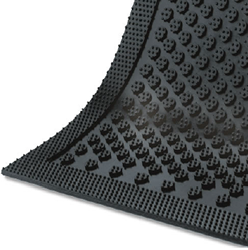 Comfort -Tred is Tough as they are made from rugged PVC and handle the heaviest human traffic areas.
With Ultra Violet Stabilizers to prevent fading for outdoor applications.
Comfort - Tred is Safe as it provides essential traction with hundreds of raised ridges grip to prevent slipping. Comfort - Tred is a MUST used mat whenever there is water. Places like swimming pools, shower rooms, recreation centres and changing rooms.
Clean and Easy to Install. With the raised ridges, it can scrape off dirt and water on surface and keep feet dry.